Sidebar
Tyvek Protective Clothing
Tyvek is still the best synthetic material out there for use as protective garments in various work environments. Tyvek material is highly breathable, but liquid cannot pass through, so the material lends itself to a variety of applications for medical, industrial, and special use.
Coverall suits, lab coats, sleeve covers, and shoe covers are garments made of this strong material. Tyvek coverall are worn over personal clothing to avoid contact with oil, fluids, asbestos or any other non hazardous light chemical. They are also heavily used in pharmaceutical manufacturing facilities, labs and clean rooms due to its low-linting properties and where a one-time use coverall or lab coat is needed. Tyvek coveralls can also be used in asbestos and radiation work but do not provide the level of protection of a like a Tychem suit can. Tychem is also manufacturer by Dupont. DuPont makes Tyvek clothing in different styles from laboratory coats and aprons to complete head-to-toe coveralls with hoods and booties.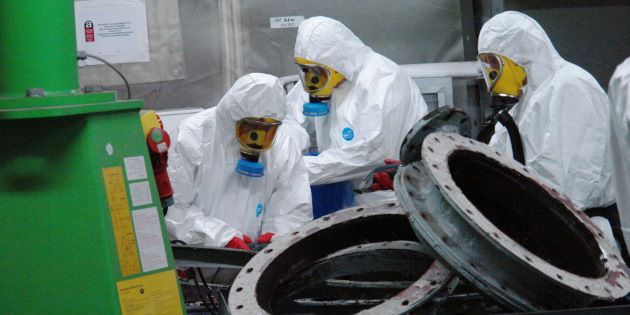 There are other alternative Tyvek "like" material that is marketed as Tyvek but they are mostly made of a protective "film" that is integrated to a non woven material or "backing". Tykek is a not a film and is a one piece flashspun high density polyethylene fabric. Other alternatives are effective and many importers/distributors have their own "house brand" of Tyvek like offerings in coveralls, lab coats, or sleeve covers. In the wake of the Louisiana Oil Spill earlier this year, most of have seen images of workers donned in their protective suits cleaning up the shore lines and marshes. Tyvek coveralls and substitute protective coveralls were heavily used and in great demand. Most safety supplies distributors had shortages due to the high demand for these protective coveralls as well as for yellow hazmat disposable boot/shoe covers. The demand was met by using pvc rainsuits.