Sidebar
​Disposable Clothing - Materials
Disposable clothing are protective apparel that has been manufactured for the demands of various workplace environments. A lot of these materials go in disposable clothing for food industry and other areas where disposable protective apparel is used. Some of the materials used are spunbonded polypropylene, multi layered spun bonded meltblown-spunbonded (SMS) fabric, Tyvek which is constructed of flashspun polyolefin material. The application of these protective fabrics depends on the demand of the application. For instance, Dupont, the makers of Tyvek offer Tychem QC coveralls which are used in petroleum refining, pulp and paper milling, chemical processing, pharmaceutical manufacturing, certain bio-hazard clean up, and general good manufacturing.
Tychem QC is made of a combination of fabrics that are tear resistant and provides reliable protection against minor chemical spills, mist and splashes. These coveralls would not be best suited for basic food processing or clean up work due to the premium cost. A better alternative for food processing and pharmaceutical packing would be spunbonded polypropylene. You can find these readily available from different manufacturers or distributors. Also note that the weight of polypropylene varies from source. For instance, our Comfortsafe frocks and coveralls are made of 40 grams of polypropylene. The added weight in grams does make a difference since the fabric is a bit more strong thus allowing a secure placement of buttons or zippers. It also allows less dirt and grim from sipping through. There is also an upgrade to the single layer polypropylene where a laminate film in added to the fabric. This microporous films give the material added strength an it also makes if fluid resistant.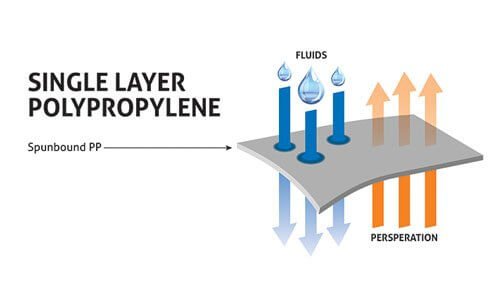 And upgrade to polypropylene would be SMS fabric. This fabric is used to make pampers, surgical mask, and filtration on some disposable particulate respirators. SMS is combined nonwoven fabric which two layers of spunbond material have been combined with one layer meltblown nonwovens inside, making them into a layered finish fabric. This fabric provides great filtration and can also be treated with special process to make them fire retardant.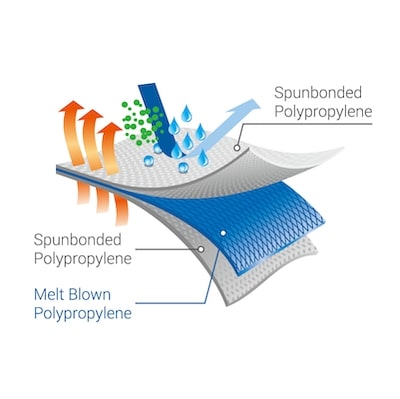 If light chemical splash protection is what you need than a Tyvek protective garment or any other protective clothing made out of flashspun polyolefin material is recommended. Tyvek is a register brand of Dupont and the world leader of protective garments made of polyolefin that offers optimal protection such as lead, asbestos, and mold. The solid and reliable construction makes Tyvek coveralls, frocks the number one choice for industrial safety usage. Tyvek provides barrier protection to less than 1 micron in size particles yet breathable and allows the transfer of heat and vapor from the body. Head to toe protection is available in disposable protective apparel to meet the demands of clean rooms, critical environments, manufacturing facilities, research and lab, food and beverage, medical device,semiconductor, petroleum refining, and industrial manufacturing. Choosing the correct level of protection helps you save money and smart.